| | | | |
| --- | --- | --- | --- |
| Gold Fields Ghana Is 2012 Best Tax Payer | | | |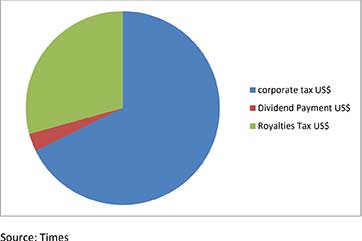 The Ghana Revenue Authority (GRA) presented Gold Fields Ghana Limited with the best Tax Payer Award for 2012 at its annual awards ceremony in Accra this week.
The ceremony honoring Gold Fields Ghana was held at the State Banquet hall and it recognized corporate institutions for their significant contributions to government revenue in terms of taxes paid. In 2012, Gold Fields Ghana contributed a total of US$250 million to Government revenue. The GRA also honored the company's staff that worked hard in the year.
Read more...
| | | | |
| --- | --- | --- | --- |
| Workshop To Validate The 2010/2011 Final Draft GHEITI Audit Reports - Updated | | | |
UPDATED - The Ghana Extractive Industries Transparency Initiative (GHEITI) secretariat together with the EITI National Steering Committee, have completed the production of the 2010/2011 final draft Ghana EITI Audit Reports.  The Stakeholders have provided critical data and other inputs for the production of the reports. To ensure that the final reports accurately reflect stakeholders' inputs the Ghana EITI secretariat is organising a technical validation round table workshop to discuss the report.
Read more...
| | | | |
| --- | --- | --- | --- |
| GHEITI Annual Report - 2012 | | | |
Foreword by the GHEITI Chairman (Chief Director of MoFEP)
I am pleased to present the 2012 Annual GHEITI Report for the Ghana EITI Secretariat. This report provides a summary of the many activities carried out by members of the National Steering Committee (NSC) and the GHEITI Secretariat for the period January –December 2012. It also provides a brief background on the Ghana EITI process, the significant successes chalked during the year and outlook for 2013.
Through a huge variety of ambitious activities undertaken as per our 2012 work plan, we have reached most of our key stakeholders such as the CSOs, Companies, the media, Members of Parliament and community people in the mining and oil and gas enclaves of the country than ever before. 
Read more...
| | | | |
| --- | --- | --- | --- |
| Presentation by SLEITI National Coordinator on the topic - Achieving Compliance: The Challenges | | | |
On behalf of the SLEITI Champion and the MSG in Sierra Leone, I thank the Ghana Extractive Industries Transparency Initiative, the German International Cooperation (GIZ) and the World Bank for organizing the EITI Regional Conference and for inviting a delegation from Sierra Leone to participate in the sharing of experiences, exchange of ideas and in identifying opportunities and challenges that will enable our extractive resources in our respective countries become the engine of growth and sustainable development.
Read more...
| | | | |
| --- | --- | --- | --- |
| Comments By Naa Prof John S. Nabila, Wulugunaba And President Of The National House Of Chiefs | | | |
Ghana had its own share of challenges despite the useful policy recommendations made in the EITI reports to Government and other key stakeholders resulting ina number of reform measures. These challenges, in Ghana's situation, included:
Read more...
<<

Start

<

Prev

1

2 3 4 5 6 7 8 9 10 Next > End >>


Page 1 of 20